Report Highlights. Pets, pet products, and pet care are all part of a $95 billion industry. Statistics indicate that economic downturns do little damage to the industry as a whole, with pet healthcare leading the market.
The industry grows by 18.6% every year.
The global market share for pet food alone is $91.1 billion.
One pet-owning household spends an average of $1,120 per year on their pets.
Two companies control 49% of the industry's market share.
Pet care service sales, such as grooming and doggie day care, doubled over 10 years but declined 47% from March to September 2020.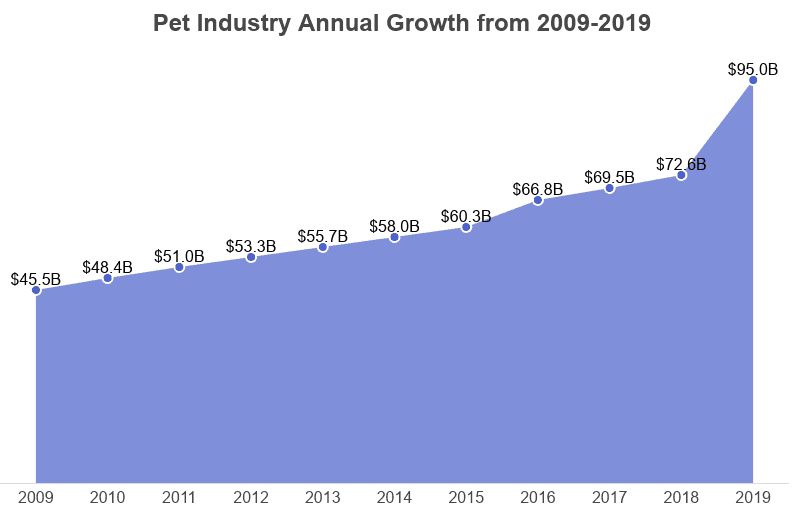 Pet Industry Statistics
The pet industry is one of the most massive sectors of the American economy, with many more years of growth potential. The pet food business accounts for one-third of the industry as a whole. Online pet-related purchases lead eCommerce markets, and more users make first-time purchases every day. One or two markets lagged through 2020, but few economists predict an overall industry loss.
Since 1994, the industry's average annual growth rate has been 18.6%.
PetSmart, Inc. controls 34% of the market share.
PETCO commands a 15% market share, making it the second-most profitable pet supply company.
13% of pet-related sales are made online.
Chewy.com is the leading pet specialty eTailer; 20% of pet owners who buy supplies online purchased from Chewy in the last year.
Amazon and its third-party retailers made 35% of online pet sales.
Technology is a growth market, seeing a 14% increase in sales each year.
$1.6 billion is the market share for pet-related technology.
Tracking and identification technology is the fastest rising product type, dominating 63% of the market.
$23,400–$27,200 is the average lifetime cost of raising a pet.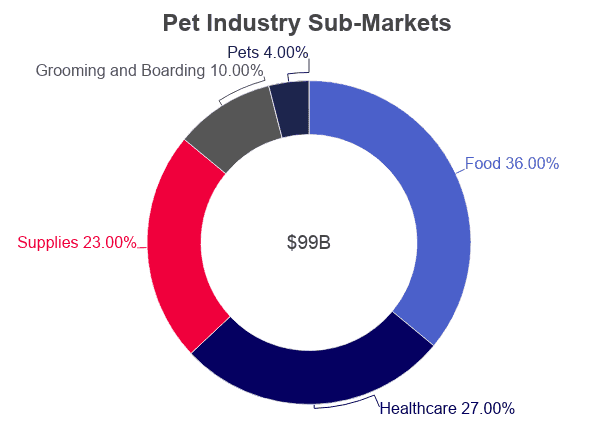 Pet Food Industry Statistics
The United States spends more on pet food than any other nation in the world. Owners continue to demand higher quality products and more accountability among pet food manufacturers and suppliers.
Over 500 pet food manufacturers produce the 3.3 billion pounds of pet food American dogs and cats consume annually.
2 pounds of food per month is the average companion animal's rate of consumption.
U.S. pet owners spend a collective $38.4 billion on pet food and treats annually.
36% of pet-related costs go toward food.
21% of pet food sales are treats.
Pet owners spend 4 times as much on food and treats as they do on general pet supplies.
Mars Petcare Inc., the largest pet food corporation, is worth more than $18 billion.
The success rate of pet food companies has created a boom in trendy boutique and specialty pet food products.
The U.S. exports $1.5 billion worth of pet food each year, more than any other world nation.
U.S. pet food exports to China increased 88% in a year, from 2018 to 2019.
Thailand imports more pet food than any other world nation.
The East Asian pet food market is worth $11 billion.
55% of consumers buy their pet's food from pet supply stores.
85% of consumers think pet food companies aren't as transparent as they should be about ingredients and their sources.
44% of pet owners say buying healthy food for their pet is more of a priority than buying healthy food for themselves.
53% of pet owners take just as much care to purchase healthy food for their pet as they do for themselves.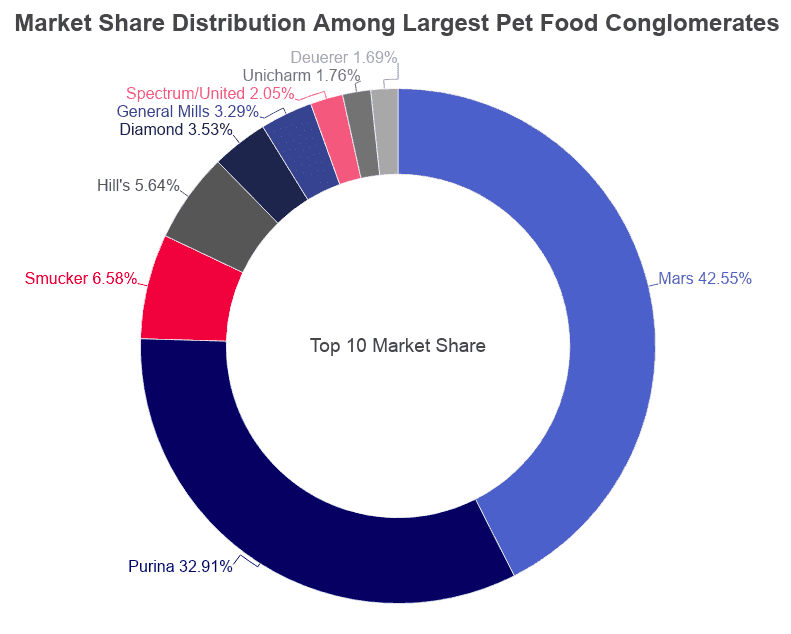 Pet Healthcare Industry Statistics
The pet healthcare industry is almost as large as the pet food industry with an even greater range, encompassing veterinary services, pharmaceuticals, over-the-counter medications, behavioral therapies, calming therapies, spa treatments, vitamins, allergy treatments, and more. Its growth outpaces the human healthcare industry, and some pet owners spend more on veterinary services than they do on their own medical care.
The U.S. pet healthcare industry makes up about 33% of the global market.
It serves as many as 10 billion companion animals worldwide.
Pet healthcare is a 10 billion dollar industry, and its total economic impact is estimated to be $54.8 billion
19,400 jobs with $1.1 billion in wages are included in that economic impact.
The industry provides federal and state governments with $38.1 million in taxes.
The U.S. exports $2.5 billion worth of pet healthcare products.
10% of pet medications are imported.
Imports are worth $1 billion, giving the United States a $1.5 billion trade surplus in the pet healthcare industry.
The indirect economic impact, which includes jobs in related industries and industries that depend on pet healthcare, may be as high as $548 billion.
5% is the annual growth rate of the pet healthcare industry.
1% of the U.S. pharmaceutical market goes to pet healthcare.
After pharmaceuticals, flea and tick medications are the second-most common expenditures.
29% of the market is flea and tick medications
Pet owners spend an average of $81 on tick and flea medication for each pet.
Toward the end of a pet's life, its owner's healthcare expenditures skyrocket.
High-income pet owners spend over three times as much of their household's budget on their pet's health care than low-income owners do.
Animal health manufacturers spend more than twice as much on research and development as they do on manufacturing costs.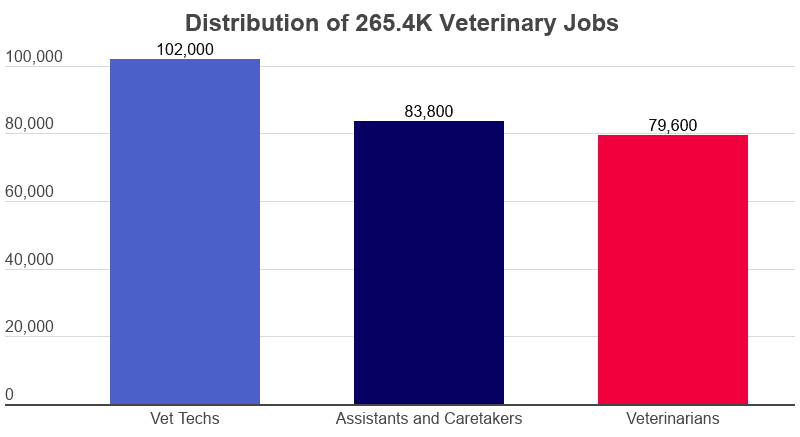 Veterinary Industry Statistics
Most pet healthcare expenses go to veterinary services. Veterinary technologists and technicians, or vet techs, make up the largest portion of jobs in the veterinary industry. Vet techs perform many of the same duties that nurses do in a regular doctor's office and are similarly in demand. Job growth within the industry is projected to continue.
27% of all pet-related expenditures are for vet care.
The average annual vet bill ranges from $100 for birds to $260 for dogs and $550 for horses.
Routine physicals and vaccinations are the most commonly performed services.
Surgical expenses have the heftiest price tag, followed by emergency visits.
Pet owners pay a collective $30.2 billion in veterinary bills each year.
60% of veterinary workers are vet techs, veterinarians, or animal caretakers and lab assistants.
There are more veterinarians nationwide than there are medical doctors.
10% of pet owners purchase their pet's food from their veterinarian.
44% of pet owners say their veterinarian is their main source of nutrition information (compared to 25% of pet owners who cited the internet as their primary source for pet nutrition information).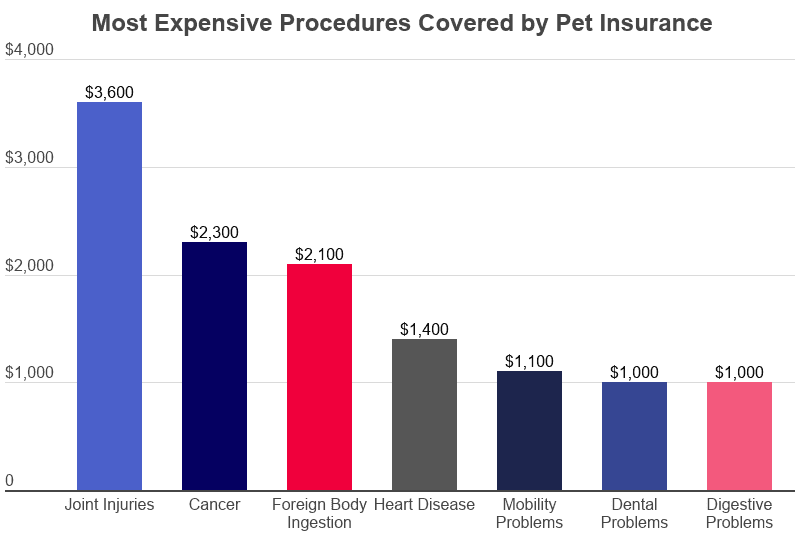 Pet Insurance Industry Statistics
Pet insurance is still not as popular among American pet owners as it is elsewhere in the world. It is, however, one of the fastest growing sub-markets within the national and global pet industries. As more pet owners come to think of their companion animals as part of the family, they are willing to go to greater lengths to provide their pets with healthcare.
The industry launched in 1982 when Veterinary Pet Insurance (now Nationwide) became the first pet insurance company.
Pet insurance is growing by as much as 16.8% each year.
With just 2.1 million or 1.6% of pets covered, the pet insurance industry is still in its infancy.
Premiums average $140 for cats and $190 for dogs.
High-end rates are $340 for cats and $540 for dogs.
Premium rates grew by 23.2% in five years.
81% of pet insurance policies are combined accident and illness coverage for dogs.
15% of pet insurance policies cover cats and other pets.
While most companies only cover dogs and cats, some offer policies for rabbits, birds, reptiles, and pot-bellied pigs.
250 U.S. companies include pet insurance in 80,000 employee benefit packages.
In Sweden, over 30% of pets are insured.
Canada's pet insurance industry nearly doubled its profits in five years, from $91 million to $161 million.
The most common claim among insured pets is for non-specific GI illnesses.
Cancer and unspecified lameness (limping) are the second- and third-most common claims, respectively.
1-in-3 pets need unexpected veterinary care each year.
$800-$1,500 is the average cost of emergency vet care.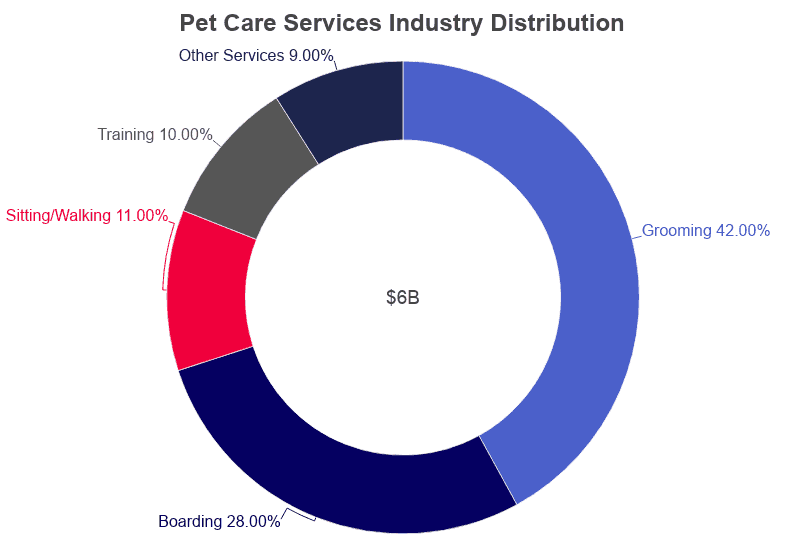 Pet Care Service Industry
Pet-sitting, boarding, and grooming are crucial services for many pet owners. Grooming may be essential for a pet's health and well-being, and high-income earners are willing to pay for luxury. Some pet care services are highly specialized, novelty services, such as nail painting and fur dying, which declined in popularity during COVID-19 quarantines. Pet owners working from home also have less need for boarding, doggy day care, and pet-sitting/walking services.
8% of the pet industry is made up of grooming and boarding services alone.
The industry has grown more than 60% since 2007.
42% of the pet care service industry is composed of grooming services.
18,700 people work just in grooming and/or boarding services.
Pet-sitting/walking is the least lucrative pet care service.
Animal training services are some of the most lucrative sectors and account for 10% of the pet care service industry.
Animal trainers and businesses each earn an average of $373,000 annually.
Just under half of all pet care service workers are self-employed.
Excluding self-employed workers, 111,384 employees populate the pet care service industry.
Pet care service jobs have grown exponentially in the past decades, outpacing job growth in every other pet industry.
Most pet care workers are employed by companies with fewer than 20 people.
Over 100,000 companies are active in this market.
30% of pet grooming expenditures go toward supplies.
Most grooming expenses go toward shampoos and conditioners.
A steady 4.3% annual growth rate in pet grooming and boarding services appears to have stalled.
Some experts say the market will see a 47% drop for the 2020 fiscal year.
Illegal and Black Market Industries
The puppy mill and exotic pet industries are two of the most active pet-related black markets. In recent years, media attention has raised awareness about exotic animals suffering in domestic environments. The general public is also more informed about the insidious nature of the puppy mill industry, but most people still aren't aware how much puppy mills supply the greater pet industry. Characterized by filth and disease, most active puppy mills are illegal operations, with many advertising themselves as "breeders."
90% of puppies sold in stores come from mills.
Over 4 million puppies are born in mills every year.
About half of them survive long enough to make it into pet stores.
Only about 30% of puppy mills are licensed.
70% of pets are purchased from a breeder or pet store.
In addition to federal bans on certain exotic pets, more than half of U.S. states have banned exotic pets either in full or in part.
Exotic pets require specialized care, including a veterinarian who is familiar with the animal, a suitable habitat, and foods that may not be available in pet stores.
Smugglers traveling with illegal animals will not prioritize the animal's health or comfort.
How Owners Drive the Pet Industry
Products may be manufactured for pets, but they're marketed to people. Fortunately for the pet industry, pet owners love their animals. Pet owner demographics and spending habits drive the predictions made by industry experts, as well as the market itself. Younger pet owners, for example, are more likely to buy pet supplies online.
2-in-3 American households include a pet.
After dog- and cat-owning households, households with freshwater fish were the third-most common, followed by bird-owning households.
While more households include a dog, more cats than dogs are kept as pets, which cat owners averaging 2 cats per household.
Freshwater fish owners average 13 fish per household.
42% of all pets are freshwater fish.
35% of pet owners are under 40, making them the leading pet-owning age demographic.
80% of these under-40 pet owners own dogs.
Less than 50% own cats.
81% of dog owners buy their dog a Christmas present.
21% of holiday pet sales are purchased by friends and family of pet owners.
36% of dog owners give their dog a birthday present.
High-income pet owners spend as much as 60% of pet expenses on pet accessories, such as costumes, furniture, and even doggy cologne.
27% of pet owners have paid for professional photos of their pets.
Over 135 million cats and dogs live in the United States.
200-300 million animals are kept as pets.
Pet ownership rates increase with household income.
Among households with a combined income of more than $80,000, 60% include pets.
Among households with a combined income of less than $20,000, 36% include pets.
60% of people who lived in homes with four or more bedrooms own pets.
18% of people who live in homes with no bedrooms, such as studios or lofts, own pets.
People who live in rural areas are 43% more likely to own pets than urban dwellers.
Cat ownership in China increased 131% in four years, from 2015 to 2019.
During that same period, cat ownership increased 102% in Korea and 53% in Taiwan.
Sources