Report Highlights. Over 30 years of longitudinal case studies determined that interaction with a friendly dog often measurably improves physical and mental health.
Sessions with therapy dogs reduce blood pressure as effectively as dietary restrictions, such as elimination of sodium or alcohol.(1)
Therapy dogs ease depression, boosting oxytocin levels by as much as 300%.(2)
Children who work with therapy dogs have increased reading fluency by a median 21%.(3)
50,000 therapy dogs are active nationwide, with over 3,000 new animals registered annually.
Clinical trials reveal therapy dogs may reduce patients' perceptions of pain.(4)
Therapy Dog Benefits
Therapy dogs always work in a team with their handler when performing Animal-Assisted Intervention (AAI) or Animal-Assisted Therapy (AAT).
Dogs are the most commonly used type of therapy animal because of how intuitively and enthusiastically they bond with humans.
Therapy dogs provide measurable physiological health benefits.
Extensive research strongly indicates working with therapy dogs offers psychological advantages.
AAI is used as complementary therapy treatment for patients with cancer, heart disease, mental illness, and chronic pain.
What makes therapy animals unique from service animals and emotional support animals in that their role is not to serve their handlers, but to give attention and affection to all people.
Certified dogs and their handlers may provide therapeutic sessions for people of all ages and needs, working in a multitude of settings.
Schools
Offices
Hospitals
Homes
Nursing homes
Group homes
Foster homes
Homeless shelters

Airports
College campuses
Testing centers
Cancer centers
Veterans' Homes
Mental health institutions
Crisis support centers

Hospice facilities
Elder care facilities
Assisted living facilities
Rehab clinics
In-patient institutions
Women's shelters
Domestic violence shelters
Physical Benefits of Therapy Dogs
Therapy dogs do more than boost people's spirits. AAI actually provides measurable advantages for physical health. Over 30 years of scientific research, including several longitudinal studies, have revealed that the list of conditions that benefit from AAI is essentially endless.
AAI reduces muscle tension and may also reduce pain.
Animal therapy eases symptoms of cardiovascular disease.
Therapy dogs lower the risk of heart failure by lowering blood pressure, as well as regulating cholesterol and triglycerides.
Regular sessions with a therapy dog can have an effect on lowering blood pressure that is comparable to eliminating sodium or alcohol from one's diet.
55% of pet owners report their pet has had a positive impact on the physical health of a friend or family member.
88% of pet owners believe healthcare specialists should recommend animal therapy or pet ownership to their patients to promote healthy living.
65% of pet owners have a more favorable opinion of doctors who discuss the health benefits of human-animal bonds.
Rehabilitation Benefits
Researchers have found that therapy dogs appear to improve physical rehabilitation and post-surgical recovery. Their greatest contributions are in the form of motivation and improved self-esteem.
Therapy dogs lend themselves well to goal-oriented programs.
Dogs inspire more physical activity, aiding rehabilitation.
Therapy dogs consistently reduce feelings of depression and fatigue.
Doctors report ICU patients becoming more engaged in their own recovery with the aid of a therapy dog.
Up to 80% of ICU patients have delirium, which is characterized by confusion and inattention; therapy dogs reduce mental confusion and ease delirium.
AAI triples the amount of social behavior (measured in number and duration of verbal and non-verbal communications) in patients as compared to their peers treated with other forms of therapy.
Psychological Benefits of Therapy Dogs
The physiological advantages of therapy dogs indicate psychological benefits, as well. Petting a dog has the same effect as hugging a loved one as far as your neurochemistry is concerned. As a result of each activity, levels of oxytocin – a neurochemical that decreases anxiety and boosts feelings of comfort – increase measurably.
Prolonged interaction with a dog can boost oxytocin levels up to 300%.
In controlled studies, AAI measurably reduced chronic pain patients' perception of pain and, by extension, their pain-induced insomnia.
AAI is used as a treatment for autism, depression, anxiety, and PTSD.
Therapy dogs measurably boost positive social behaviors, such as active verbal communication and eye contact.
Dogs provide such a morale boost that it has become widely acceptable in recent decades for employees to bring a pet into a professional office setting.
An AAI offers a valuable opportunity to de-stress at work, whereas employment directly relates to two of adult life's greatest stressors – career and money.
75% of pet owners report their pet has improved a friend or family members' mental health.
93% of pet owners believe the U.S. government should provide service animals to veterans suffering from post-traumatic stress disorder (PTSD).
Notable Proponents of Animal-Assisted Interventions
| | |
| --- | --- |
| The Greeks | Ancient literature indicates that horses may have been used in Greece to entertain the severely ill with the intention of lifting their spirits – one of the general purposes of AAI. |
| Florence Nightingale | In the 19th Century, Nurse Nightingale promoted the idea of comfort animals for the sick and hospitalized, especially those suffering from anxiety and psychiatric patients of every age. |
| Sigmund Freud | Dr. Freud often took his dog Jo-Fi to therapy sessions because he observed that she had a calming effect on many of his patients, especially children. |
| Charles Mayo | Dr. Mayo, who would go on to found the Mayo Clinic, "hired" a dog named Smoky to perform rounds at the 233rd Station Hospital in New Guinea during World War II. |
Therapy Dogs in School
From elementary schools to college campuses, therapy dogs are a welcome addition to academia. AAIs ease the stress of exams as well as the social anxieties that are especially common in youths. Over 30 years of research has yielded qualitative evidence and quantitative evidence that therapy dogs improve academic performance and enthusiasm.
Therapy dogs ease anxieties that are common among children, such as attending a new school or test-taking.
Children who struggle with socialization often bond with dogs; this relationship allows the child to practice social skills in a low-risk environment.
Therapy dogs also encourage positive characteristics, helping children learn empathy
Children who work with therapy dogs have increased reading fluency by 12%-30%.
Most studies of therapy dogs in schools focus on elementary aged children.
In California, 20% of elementary schools worked with therapy dogs in some capacity.
Increasingly, academic institutions provide AAI free-of-charge as part of their student counseling services.
10%-21% of college students are diagnosed with depression and/or anxiety each year.
Kent State's 26 therapy dogs perform an average of 10,000 student sessions annually.
Tufts University has its own non-profit organization dedicated to training and mentoring therapy dogs and their handlers; their first event drew ten times as many people as they were expecting.
Yale's Law School and Harvard's Medical School Libraries each have a therapy dog available for checkout.
Therapy Dog Facts
Therapy dogs come in all shapes, sizes, and breeds. Therapy dogs don't go through the type of specialized training that service or assistance animals need, nor do they have the legal rights and protections those animals receive.
There are over 200 therapy animal organizations and programs throughout all 50 of the United States.
Over 50,000 therapy dog/handler teams currently provide AAI.
In 2012, just 24,750 therapy dog/handler teams were registered with Therapy Dogs International (now the Alliance of Therapy Dogs).
Dr. Boris Levinson began the first formal research into the possibilities of animal therapy in the 1960s.
Animal therapy programs incorporated into modern medicine became mainstream in the 1980s and '90s.
The Delta Society, the first therapy animal certification group, was founded in 1989.
Using animals specifically for therapeutic purposes dates at least to the hospitals and asylums of medieval Belgium
Therapy dog programs were first incorporated into modern medicine in 1944, when a Yorkshire Terrier named Smoky comforted soldiers and personnel in a WWII hospital.
Her consistently positive results and worldwide fame prompted the U.S. Air Force to launch a search for other dogs that might be suitable comfort companions, building kennels on hospital grounds.
By 1947, roughly 700 therapy dogs were enrolled in the program.
Smoky also flew 12 air/sea rescue and reconnaissance missions and participated in 150 air raids, setting the standard for a therapy animal's calm-under-stress prerequisite.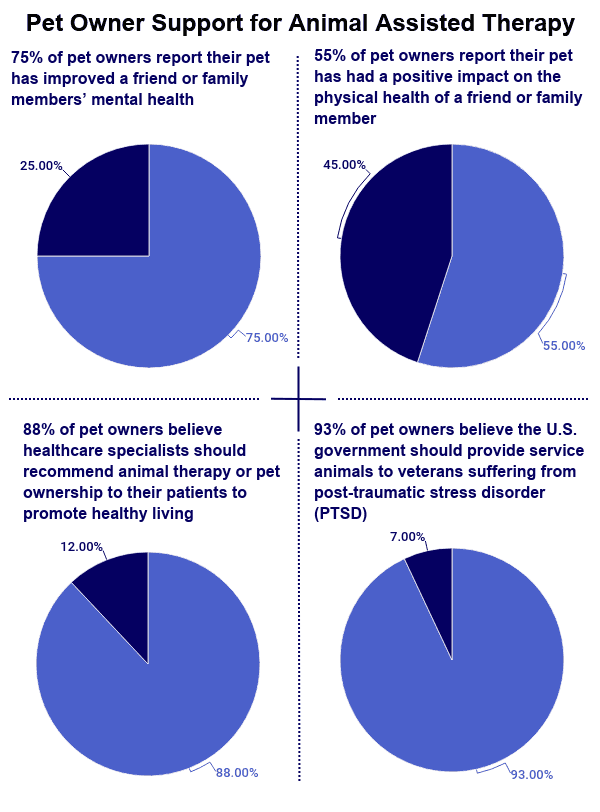 Becoming a Therapy Dog
Therapy animal programs have been so successful, there's a constant demand for more certified therapy teams. Your pet can be a therapy dog; it's not difficult to arrange for you and your dog to be tested for certification, and the fees are minimal. Therapy animal organizations place restrictions on what kinds of animals can be certified.
A dog must be at least one (1) year old before they can become a therapy animal.
$20 covers the background check required before a legitimate certification program will even consider testing your dog/handler team.
$10 is the cost of therapy dog certification testing for one dog and up to two (2) handlers.
A $30 annual fee for membership in the Alliance of Therapy Dogs includes liability insurance (up to $1 million) for the dog/handler team.
A good therapy dog has two critical characteristics: attentiveness and a calm disposition.
29% of elder healthcare facilities require therapy dogs to be registered with a therapy animal organization.
19% of therapy animal organizations don't allow dogs on raw diets.
The American Kennel Club (AKC) offers Therapy Dog "ranks" depending on how many verified therapeutic visits an animal has performed.
AKC Therapy Dog Ranks
| | |
| --- | --- |
| Title | Requirement |
| Novice | 10 visits |
| Advanced | 100 visits |
| Excellent | 200 visits |
| Distinguished | 400 visits |
Sources